Activities in January – March 2012
 (1) Post-Flood Relief Work Project
As a On-going work after the Greatest Thai Flood in 2011, the Foundation sought to raise funds for the Flood Victims for Repair Work, in the post-flood period. Altogether, 20 families received aid, and they come from various provinces namely, in Bangkok, Nonthaburi, Chainat, Phitsanuloke, RoiEt, Ayutthaya and Nakhon Sawan.
 (2) Feeding the Family Project
The Foundation distributed Life-paks (consisting of rice packs, dried foodstuffs, milk and pampers) to families of  the disabled and the needy, who lack breadwinners, in the Slum Community of Klong Toey in Bangkok.
3) The Little Entrepreneur Project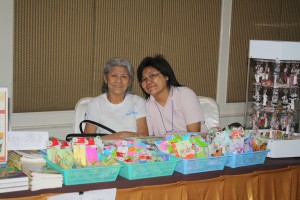 The Hilltribe students in the Sahasartsuksa School, utilised their spare time to sew traditional hilltribe embroideries, which were converted into pencil cases, key-chains, etc.. The Foundation, helped to market these products so that the students may have pocket money to buy their daily needs. In this way, the students also learnt to preserve their traditions in their various hill-tribe cultures as well.
(4) Scholarship Grants for the "S.M.A.R.T. Scheme" Savings House Contest
The Foundation conducted a Contest for Youths and Kids, so as to grant scholarships to winners. The purpose of the contest was to instill in Youths and Children, the benefits of  Giving, Savings and Using money to increase personal financial intelligience and awareness of one's social responsibilities to the less privileged. Contestants came from both Bangkok and upcountry provinces, and 12 grants were given out, together with 27 consolation prizes.
(5) Seminar on "Sexuality: Have We Crossed the Lines?"
The Foundation organised the seminar for volunteers in both Bangkok and Upcountry, so as to pass on knowledge and skills on how to counsel youths and families on the topic above on 24-25 March at a local hotel in Bangkok.
(6) Youth Leadership Camps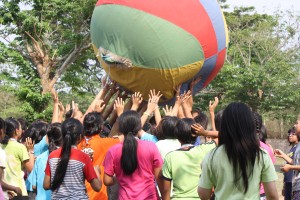 The Foundation conducted the Leadership camps from 29-31 March, in the  Sutisirisopa Campsite in Nakhon Ratchsrima, for 250 Children and Youths, from the provinces of Bangkok, Khon Kaen, Chonburi, Samut Sakhon, Samut Songkhram, Kanchababuri, and hill-tribes in Chiangmai and Chiangrai. The theme was "The SMART Leader", which purposed to instill in the young lives, principles of leadership, teamwork, etc., so that they may use these skills to impact their peers when they go back to their local communities.
The Foundation would like to thank all our partners who supported our projects and richly encouraged us, which enabled us to carry out the work that has been done to enrich our society. May God richly bless you and your families!